To realize a stereo camera, we needed a high-performance computing environment with high speed processor before. Fujisoft has developed Stereo Vision IP Suite aiming at introducing this technology for embedded devices that have limited processing speed, development time and cost.
We adopted the stereo vision algorithm developed by Dr. Keiji Saneyoshi.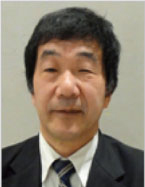 We chose an algorithm developed by Dr. Keiji Saneyoshi, and associate Professor of Tokyo Institute of Technology, who is a leading researcher on stereo camera technologies for vehicles. The system calibrates the images with photos taken with two cameras placed in parallel by restoring to 3D shape with epipolar geometry. With this calibration, it can measure the distance to objects with high accuracy.
Adopting a low-price, high-performance FPGA
We co-developed it with Intel (former ALTERA).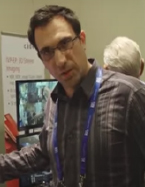 Using FPGA we realized a customizable system with high-performance, low-power, and compact design. Our Stereo Vision IP suite will make it easy for engineers to apply with a reasonable cost. That will lower research and development workload significantly.
A stereo camera is one of sensors that measures distance as well as infrared and millimeter wave radar. It uses triangulation with stereo camera same as when people see things. Shooting images with two cameras on the left and right produces disparity data. The system can calculate the distance from cameras to the object surface with the disparity data. The distance information can be used to detect unevenness of surrounding area, to measure the actual size of the object and the location. Furthermore, it can accurately identify marks on the road surface such as white line, yellow line, etc., and side walls and road shoulder, which are boundaries of the driving area, which are difficult with infrared and millimeter wave radar. In this way, stereo cameras can be widely applied as an alternative to visual recognition of objects by a human.